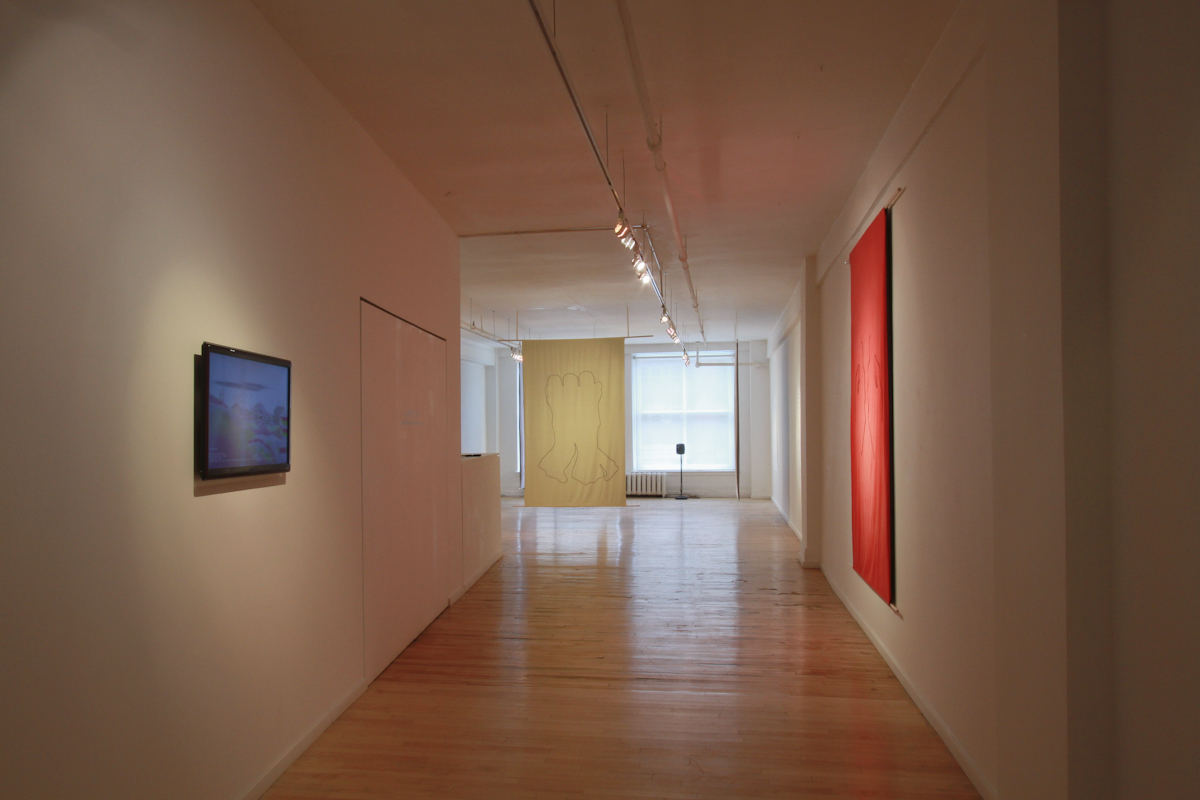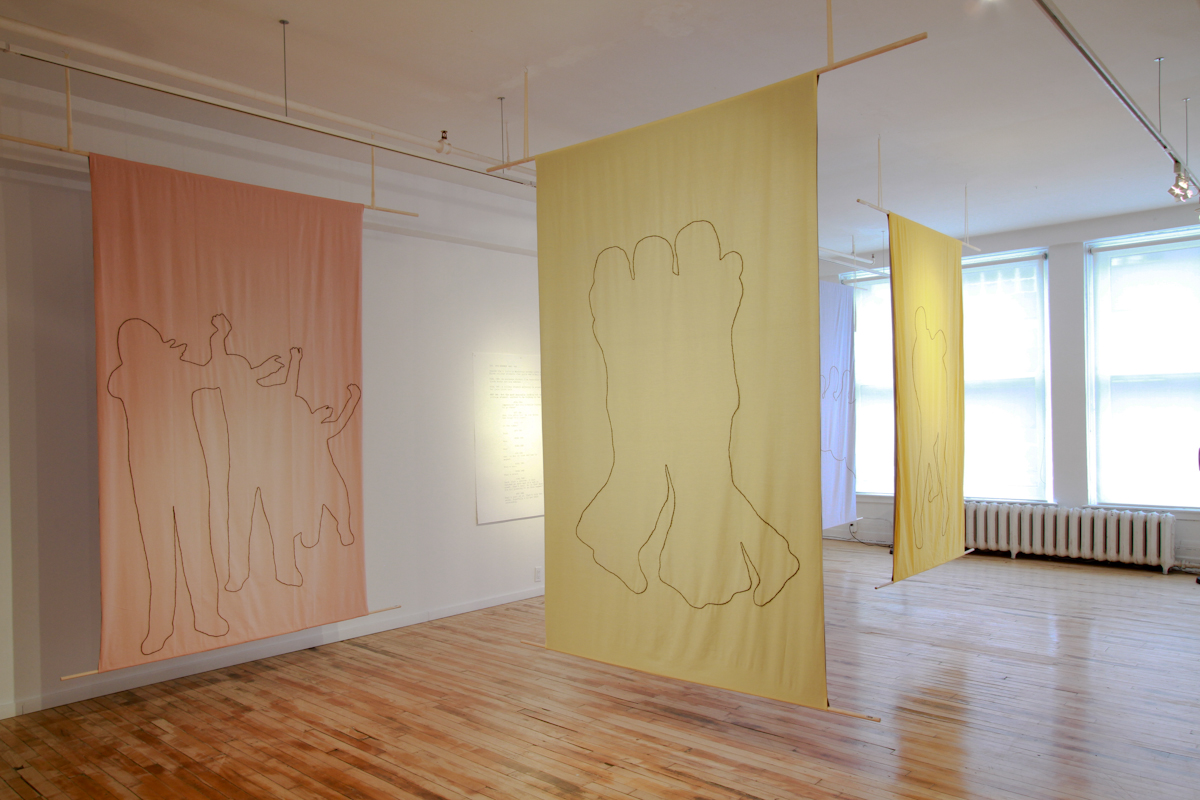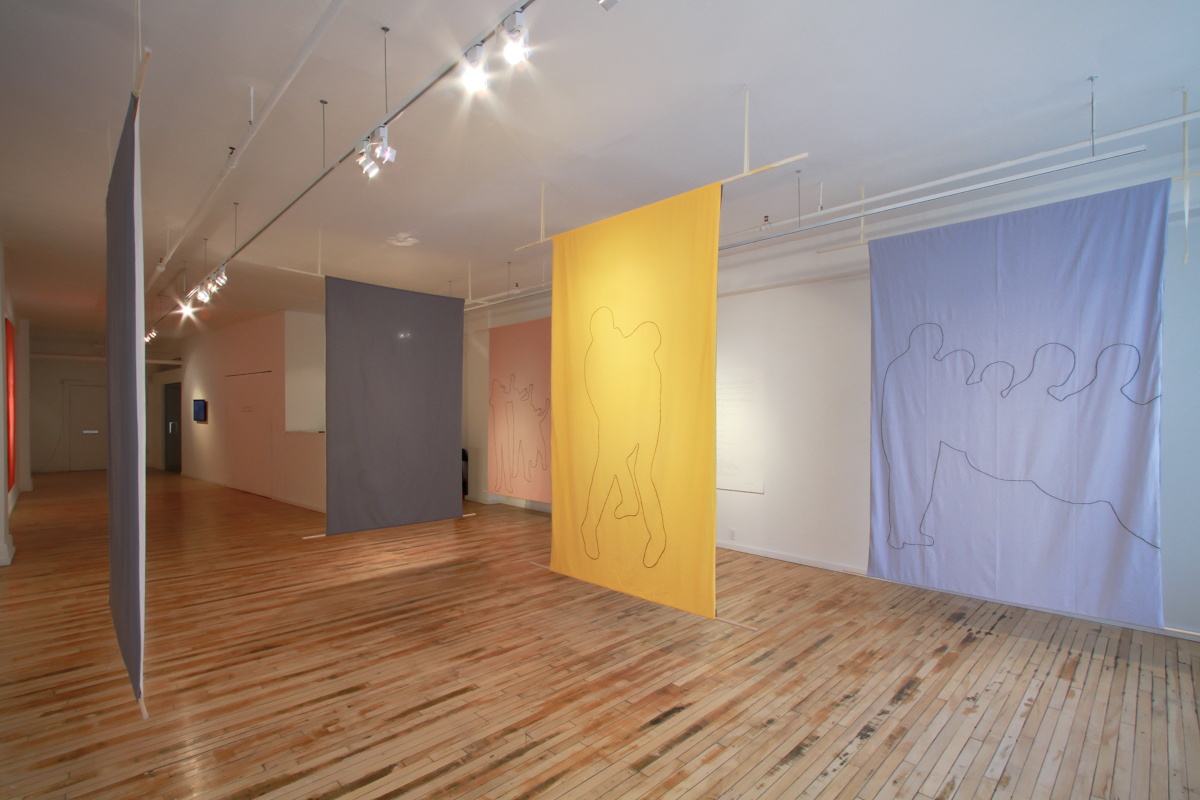 Closer Yet
Artists: Bang Geul Han and Minna Pöllänen
Exhibition: April 16 to June 4 2016
Project Pangée is pleased to present a two-person exhibition by Bang Geul Han and Minna Pöllänen. Closer Yet addresses themes of distance and intimacy in globalized first world societies, where many aspects of day to day lives are being voluntarily and involuntarily monitored and documented by governments, corporations, as well as ourselves. These works investigate experiences of distance, both physical and metaphysical, in relation to technology, consumerism, and globalization.
Using imagery from news and social media as its starting point, Minna Pöllänen's installation Close to You explores human interaction and intimacy through everyday activities and their relationship to market society, consumerism, and technology. The installation features second-hand bed sheets onto which Pöllänen has backstitched outlines of human forms within close physical proximity to one another. These figures, often lumped together, are accompanied by statistical information related to each embroidered image, forming stories of closeness in a culture rooted in consumption and the capitalist imperative of growth.
Exploring the act of eavesdropping in relation to the physical proximity of strangers in urban environments, Bang Geul Han's drawings and her accompanying sound piece are based on secretly recorded conversations taking place on New York's public transportation system. Relying on an essentially outmoded form of surveillance technology, these recordings of everyday interactions evolve from small vignettes into something akin to an imaginary, Beckettian screenplay. Lines between fiction and nonfiction get blurred via memory, transcription, and the limits of technical systems.
In the exhibited video works, Han explores the entangled ambiguities and contradictions of data monitoring technologies as something both increasingly mundane and ubiquitous and also something dark and opaque. These software-driven video pieces render various data points, from current weather conditions, crude oil and Facebook stock prices, to the reported casualties of US-led covert drone strikes in Yemen, Pakistan and Somalia. Borrowing heavily from the aesthetics and technology of 3D video games, the works generate a visceral yet distant spectacle: a contemporary fantasy where the gazing subject is excluded from the effects of violence and destruction.
Minna Pöllänen (b.1980) is a Finnish visual artist living and working in Helsinki and London. Pöllänen's practice moves between photography, sculpture, installation and performance. Her work focuses on the politics of space, the act of looking, and the economic and societal structures related to market society. Pöllänen holds an MA with distinction (2011) in Fine Art Photography from London College of Communication. Her work has recently been shown at the Triangle Arts Association, in the Brooklyn Bridge Park and A.I.R Gallery in New York, Galerie Les Territoires in Montreal, The Photographers' Gallery and Shonibare Guest Projects in London, Skaftfell Center for Art Project Space in Seydisfjordur, Format Photography Festival in Derby and Gallery Augusta in Helsinki. Pöllänen has been awarded various residencies including at the Triangle Arts Association in New York (2015), the HIAP in Helsinki (2015-2016) and the Skaftfell Center for Art in Iceland (2014).
Bang Geul Han (b. 1978) holds an MFA in Electronic Integrated Art from Alfred University in the US and a BFA in Painting from Seoul National University. Her work has been shown in the A.I.R. Gallery, Cuchifritos Gallery, Islip Art Museum, Crossing Art Gallery and Florence Lynch Gallery in New York, SangSangMadang in Seoul, Galerie Les Territories in Montreal, Centro Internazionale per l'Arte Contemporanea in Rome, and Millennium Art Gallery in Beijing. Han is a recipient of a number of artist residencies and fellowships including the Lower Manhattan Cultural Council's Workspace program (2011-2012), the MacDowell Colony (2009), and Skowhegan School of Painting and Sculpture (2007). Han is currently participating in the Artist in the Marketplace (AIM) program at the Bronx Museum of the Arts. She lives and works in New York City.
Pöllänen and Han's collaborative installation "Signs of Flood" is currently on view at the Queens Museum as part of Queens International 2016.
With the kind support of Frame Visual Art Finland and the City University of New York.