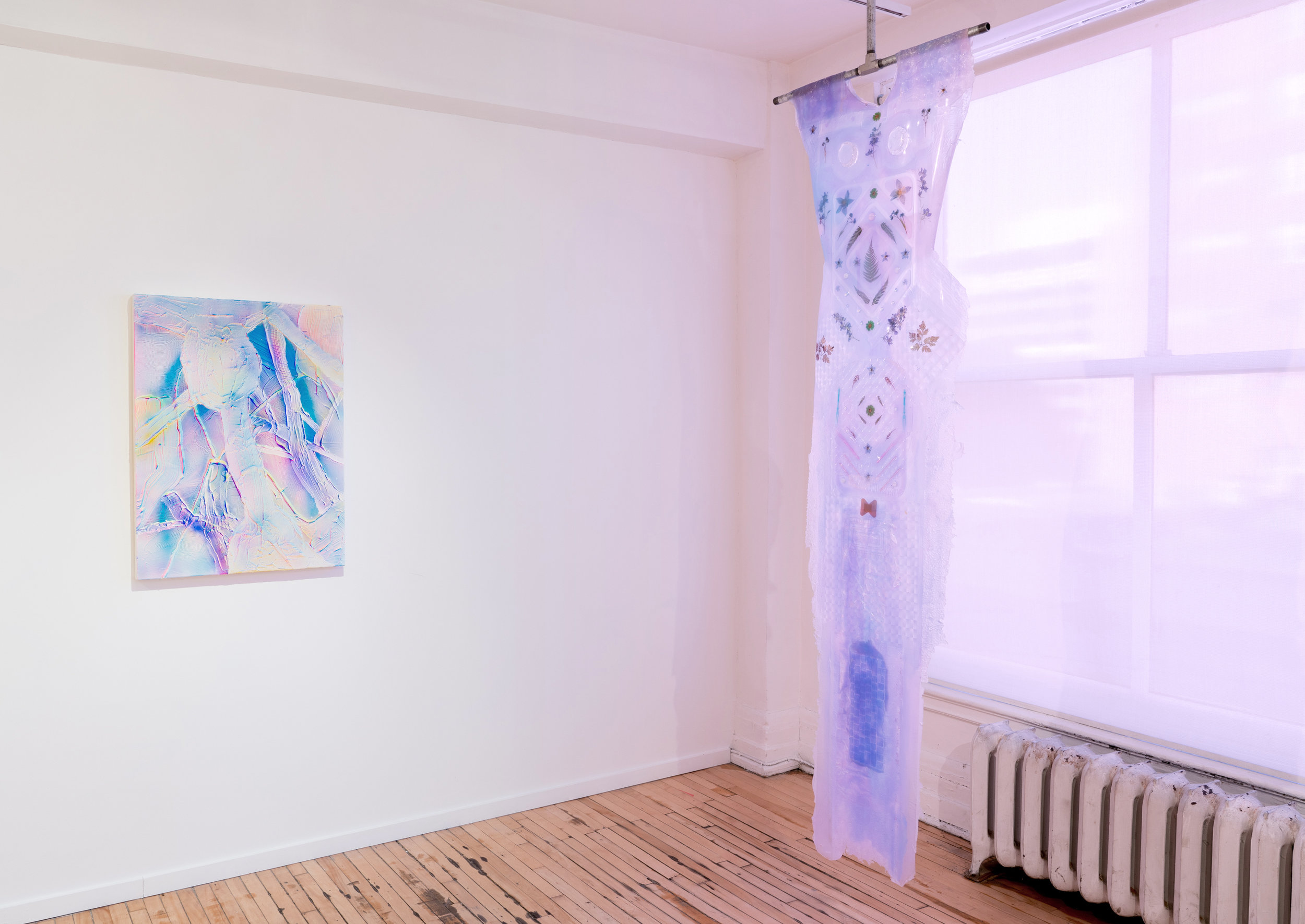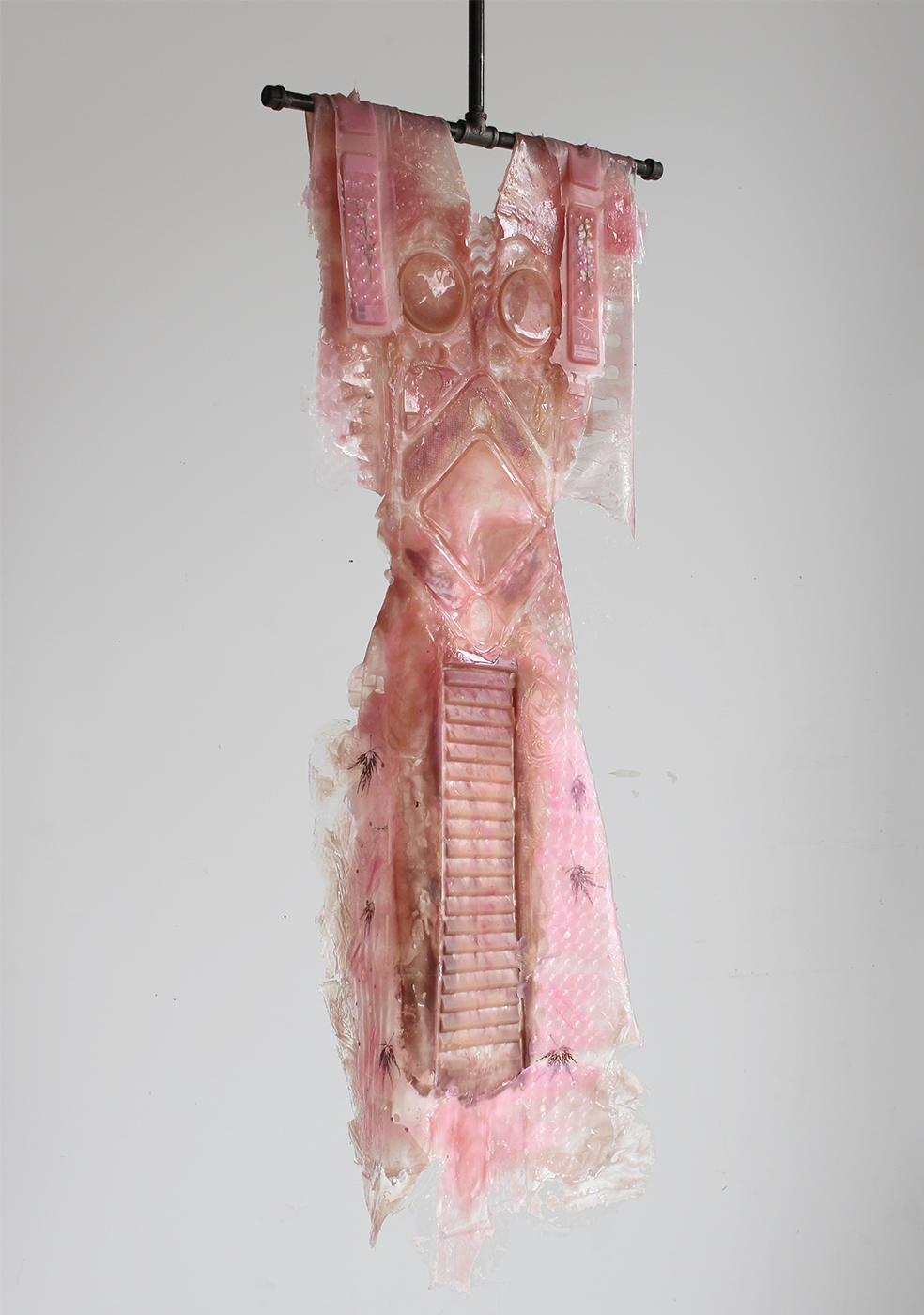 Futuristic Future
Artists: Lauren Pelc-McArthur (Montreal/Toronto), Amy Brener (New York) and Cat Bluemke (Chicago)
Exhibition: from January 14 to February 18, 2017

Installation views: Jean-Michael Seminaro
Beyond Postdigital by Otino Corsano
It is anticipated half of the world's population will secure Internet access in 20171. This rolling out of high-speed information has accelerated digital archiving, production, and personal data gathering. Also by this time, the semblance of these new digital processes carrying an amelioration of the human condition has traversed well past any lingering hope. Rather, subscribers, users and the like have been trampled, if not dragged through the worst Baroque horrors located in the residue and offshoots of digital culture. Access to this remastered, reissue of Pandora's box sets fails even the most sensible of censors and we have paid for these unrestricted freedoms with the loss of authenticity and especially tact. Recall the Renaissance-reflective promises of order and harmony aligned to a perfect virtual grid. The digital has always been sold with a tagline of ease: the final attainment of modernist egalitarianism via leisurely, individual choice. All is available at the press of a button. It has never wavered nor apologized from mining our introspective instinct for selection. We are no longer naïve. We now know too well the compact digital age has always been a big brother lie.
Now the postdigital is all about damage control. An art world in denial, hemorrhaging from this latest Trojan format shift, is still locked in a losing battle of negotiating out of a contract it never agreed to sign on to. The list of untruths is long and the lies begin with the signing bonus: artists and dealers alike will never retrieve their investment into digital start up and marketing costs. These funds are only funnelled into the virtual realm placing everyone even further away from both the real form of the work itself and the concrete action of material purchase. Viewers consume remotely now with the pixel as the greatest leveller in the high art/low art divide. High art! How humorous. Why in fact would an online editor of art content need to set foot in a gallery ever again when JPEGs and PDFs are just a Dropbox away? The digital is not exclusively archival nor has it ever been autonomous. Content disappears in the instance of any developer's whim to upgrade and obsolescence simultaneously. It fails fragile economies. Let us all weigh the cost of any emerging artist's work with the cost of a cell phone and compare said payment plans. More LOLs. This digital realm is the most unforgiving pyramid scheme to have been built since Giza – pixel by iPhone.
The desire to exit this rabbit hole is so strong and the postdigital serves as the ideal, sad sedative for our escapist fantasies. Most would be happy to affect positive change within their community; still, offset the real work necessary to achieve the smallest real life benefit against the virtual ability to perpetuate the illusion of social enhancements. Rose-coloured retrospectives and revival musings help alleviate the suffering. How are artists able to produce work in community, consider very real environmental, global and political dilemmas when all access to these arenas are now so perfectly controlled by digital, commercial, power systems?
Entertaining this nostalgic anesthetic for a moment is a return to pre-digital scenarios and strategies. Reviving the pre-digital is the first step to recover what the postdigital has lost us. It is always recommended to back up art data before serving it onto a new host. This time travel back to the future is necessary - for protection, preservation and simply in order to initiate the consideration of new modes of artistic engagement. Just as Ivan Karp's "RENT IS THE ONLY REALITY: or The Hotel Instead of The Hymn"2 considered the image as the linked source for radical realist painters, new movements beyond the postdigital involve extracting the image out of the digital matrix and back into the real estate of RL - or at least out of the motherboard and back into the real space of the gallery.
Beyond the postdigital lies our "Futuristic Future". Lauren Pelc-McArthur, Amy Brener and Cat Bluemke help carve new paths progressing from places before some things went horribly wrong. While sidestepping the giant leap promised to us, these are brave, small steps backwards and away from the mistruths facing us daily on our digital screens.
Lauren Pelc-McArthur's "Normal Paintings" differ so greatly from her digital work. First, her acrylic paintings have dimensions – in literal opposition to the non-committal "Dimensions Variable" of their bad-boy, bitmapped, crusty, computerized twins. Her Ryman-like, white, gessoed surfaces are sprayed with a mist of infinite spectra detail featuring divine florescent complexity. The analogue result is chemically rich and microscopically deep enough to make any retina display cry for mercy as well as aligning to the mannerisms outlined in Jonathan Griffin's essay titled "Spray"3. James Turrell never wished for his experiments to help produce a music video.4
Amy Brener's sculptures look like a cross between recycled Tony Sherman records and Matthew Barney workout equipment, evoking Venus flytraps. Her art lava has moulded itself around the most non-biodegradable, vacuum-packed forms. In the process, these sculptures have captured the most delicate of organic evidence found in the shed skins of these newest, Second-Life, Pompeii escape artists. The results are science-fiction film costumes promising protection and power against future ecological disasters.
When Cat Bluemke is not busy ridiculing the dehumanizing effects of technology, or mimicking Jeremy Bailey's fashion sense, it seems she spends her free time saving icons from the canon of art history. Bluemke reframes these gems, not employing the introverted new media of Instagram selfies, rather using veteran light based formats. This is augmented art all can enjoy without the requirement of silly looking VR headsets. Our hologram hero is set to defend us against the tech giants. David too can be yours.5
The post post-digital is an art aligned to nurturing the human condition. It is affirming for viewers and rewarding for artists in very tangible ways. Similar to Michael Fried's critique of modern art's "theatricality", artwork moving past the postdigital makes necessary distinctions between the digital experience of a work and art object itself. It also takes into consideration the work's practical purpose. While not dismissing or abandoning digital processes or formats (an impossible task at this time it seems), post-postdigital work links aesthetics to artistic intentions for real-world effects. It is not reliant on second party platforms. Its goal can even be deemed to elucidate – if not directly enact – positive, economic, environmental and social benefits.
These three artists' works motions us to consider the true survival of art beyond the limitation and problematic of digital experience. What is 'enhanced' here is not an interior digital nor the illusory by-products of reactionary postdigital remedies. "Futuristic Future" offers optimistic solutions to the aged art cube challenge faster than you can say "Rubik". More spin on old games at least turns heads out of Plato's virtual Cave so we can all begin to consider pragmatic ways of how art can be owned, repaired and salvaged beyond the postdigital.
Biographies
Cat Bluemke (b. 1993, Meaford) is a MFA student in Design for Emerging Technologies at the School of the Art Institute of Chicago. Her interdisciplinary practice explores technology's impact on social systems and correlated cultural investments. She works both independently and collectively as Tough Guy Mountain, a new media start-up art collective that uses bureaucratic practices as artistic medium. She has shown at GRIN Galleries (Providence, RI); The Power Plant (Toronto); Art Gallery of Ontario (Toronto), Neubacher Shore (Toronto), Whippersnapper Gallery (Toronto) and soon at 2nd Floor Rear (Chicago). Notable commissions include the Art Gallery of Ontario for Art Toronto 2015, and OCAD University's Imagination Catalyst. Bluemke was awarded the OCADU Alfred Vivash award and SAIC's New Artists Society Scholarship for her studies. She lives and works in Chicago, IL.
Amy Brener (b. 1982, Victoria) lives and works in New York. Her large scale resin sculptures were included in Greater New York 2015 at MoMA PS1 in New York. Her work has exhibited internationally at institutions and galleries such as Galerie Pact in Paris, Wentrup Gallery in Berlin, Derek Eller Gallery and the Katonah Museum of Art in New York, and Susan Hobbs Gallery in Toronto. Brener received the NYFA Fellowship for Crafts/Sculpture in 2015, attended Skowhegan School of Painting and Sculpture in 2011, and graduated with an MFA in Sculpture from Hunter College in 2010.
Lauren Pelc-McArthur (b. 1989) is a visual artist from Toronto currently based in Montreal. Through painting and 3-D animation she responds to various facets of technology and information culture. Pelc-McArthur has shown her work internationally. She has participated in residencies in Canada, abroad and online. She has received several awards including grants from the Ontario Arts Council and the Toronto Arts Council. Pelc-McArthur is currently completing her MFA at Concordia University.
Press (exhibition)
Canadian Art - Must-Sees: http://canadianart.ca/must-sees/must-sees-week-january-12-18-2017/
McGill Tribune: http://www.mcgilltribune.com/a-e/interpreting-reality-digital-age-356408/
The Concordian: http://theconcordian.com/2017/01/explore-art-in-a-futuristic-future/
The Belgo Report: http://www.thebelgoreport.com/2017/02/futuristic-future-at-projet-pangee/
1 "Number of Internet Users (2016)" Internet Live Stats. July 1, 2016. Accessed December 27, 2016. http://www.internetlivestats.com.
2 Karp, Ivan. "RENT IS THE ONLY REALITY: or The Hotel Instead of The Hymn" Arts Magazine, December 1972/January 1972, 47-51.
3 Griffin, Jonathan. "Spray." Jonathangriffin.org. April 27, 2016. Accessed December 27, 2016. https://jonathangriffin.org/2016/04/27/spray/. First published: Art Los Angeles Reader, January 2016.
4 Zaretsky, Donn. "What a Time to Be Alive." The Art Law Blog. October 21, 2015. Accessed December 27, 2016. http://theartlawblog.blogspot.ca/2015/10/what-time-to-be-alive.html
5 "Rentals in Florence - Airbnb." Www.airbnb.ca. Accessed December 27, 2016. https://www.airbnb.ca/stay/florence-villa-rentals?locale=en