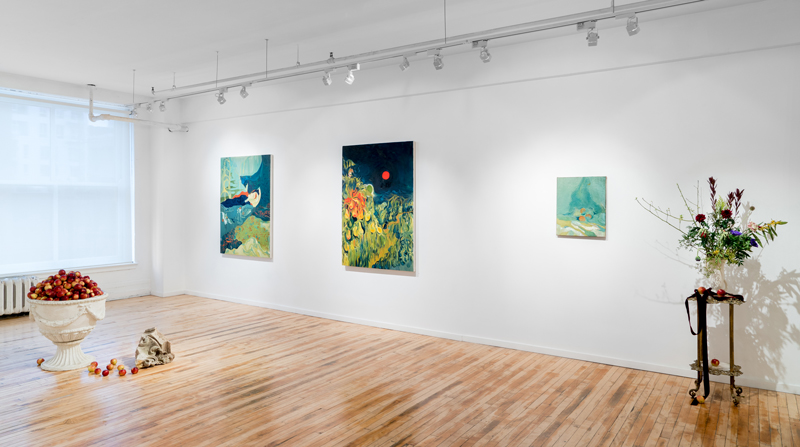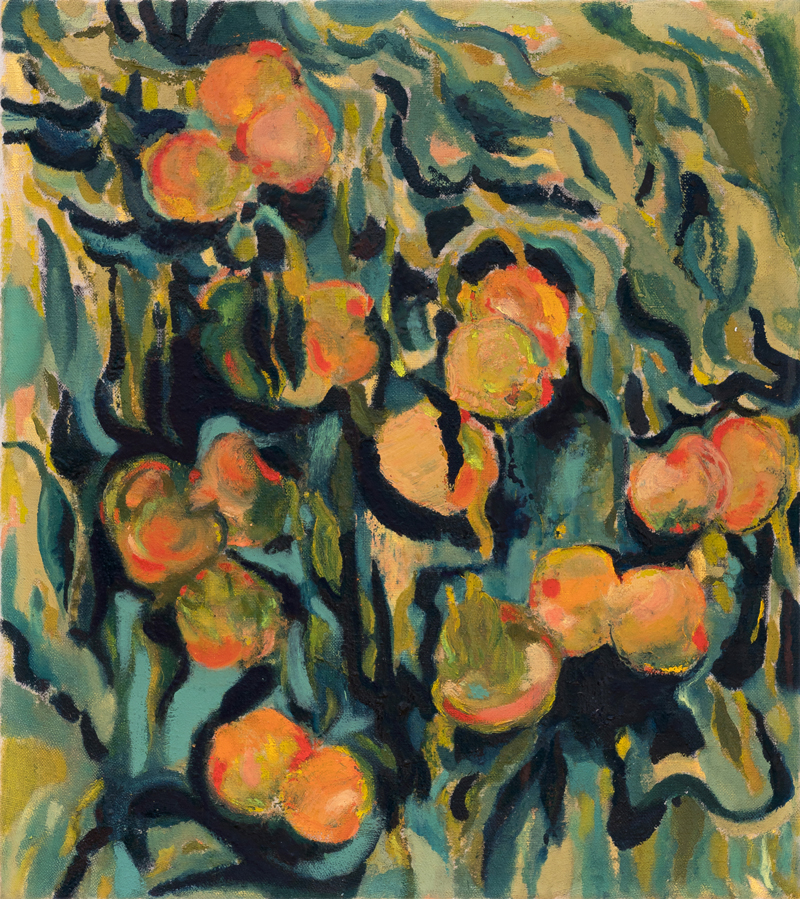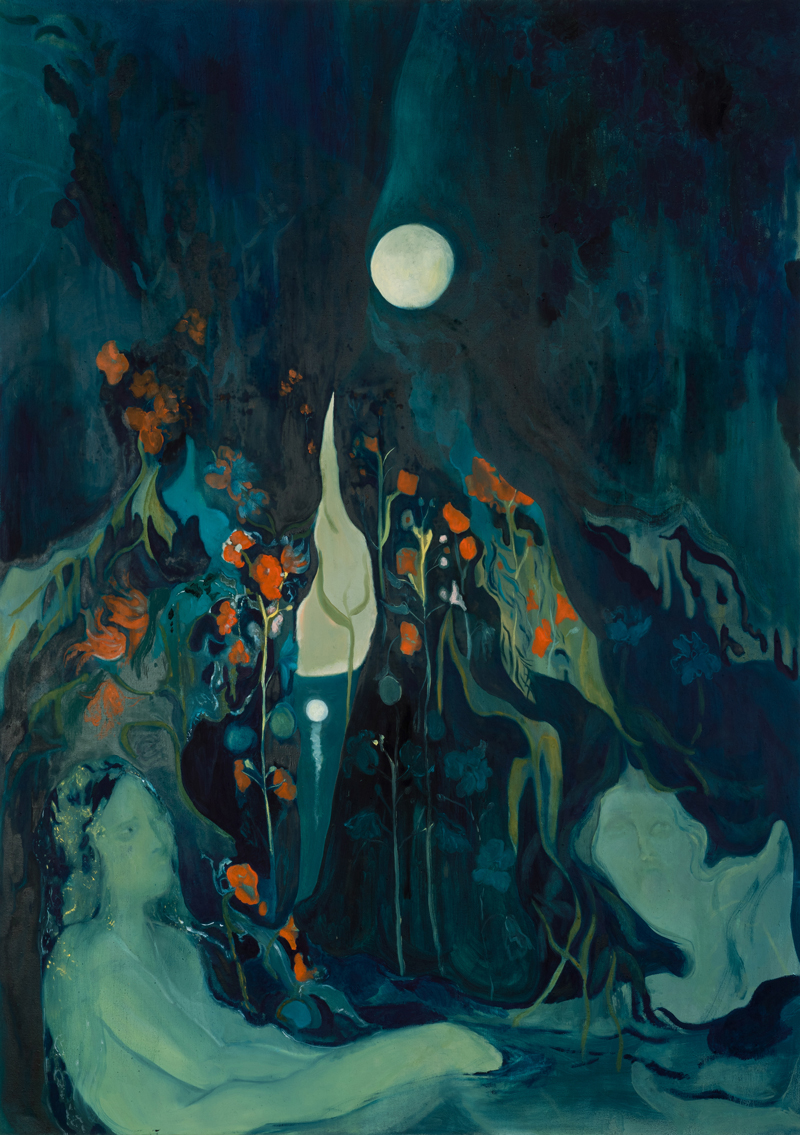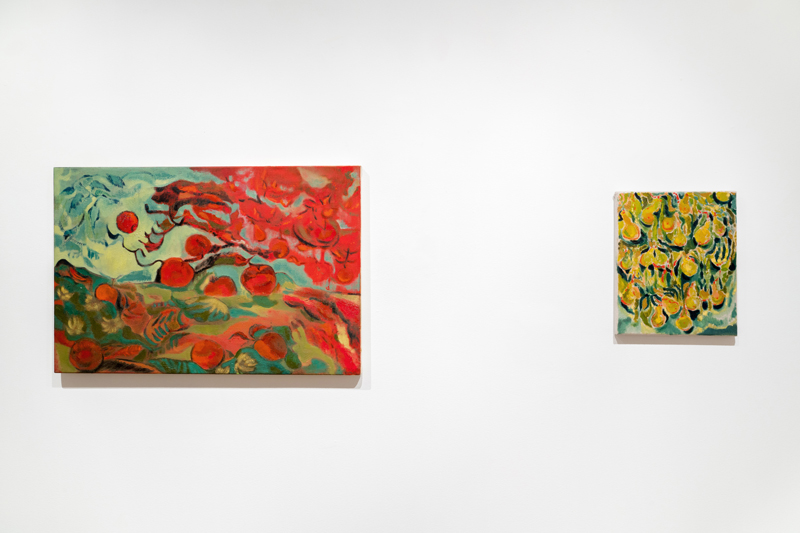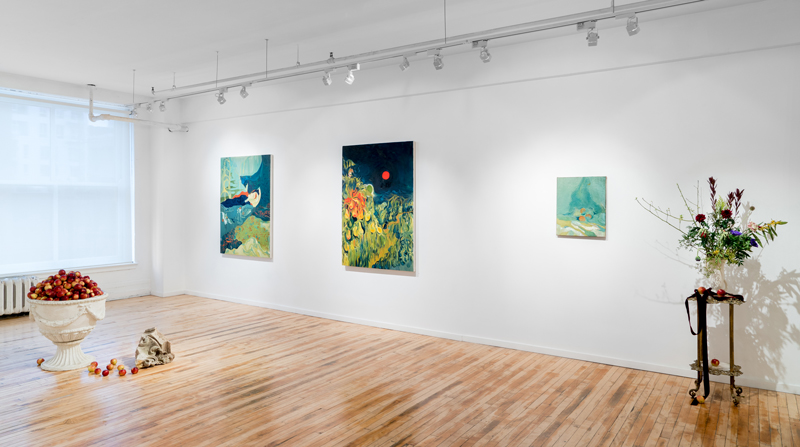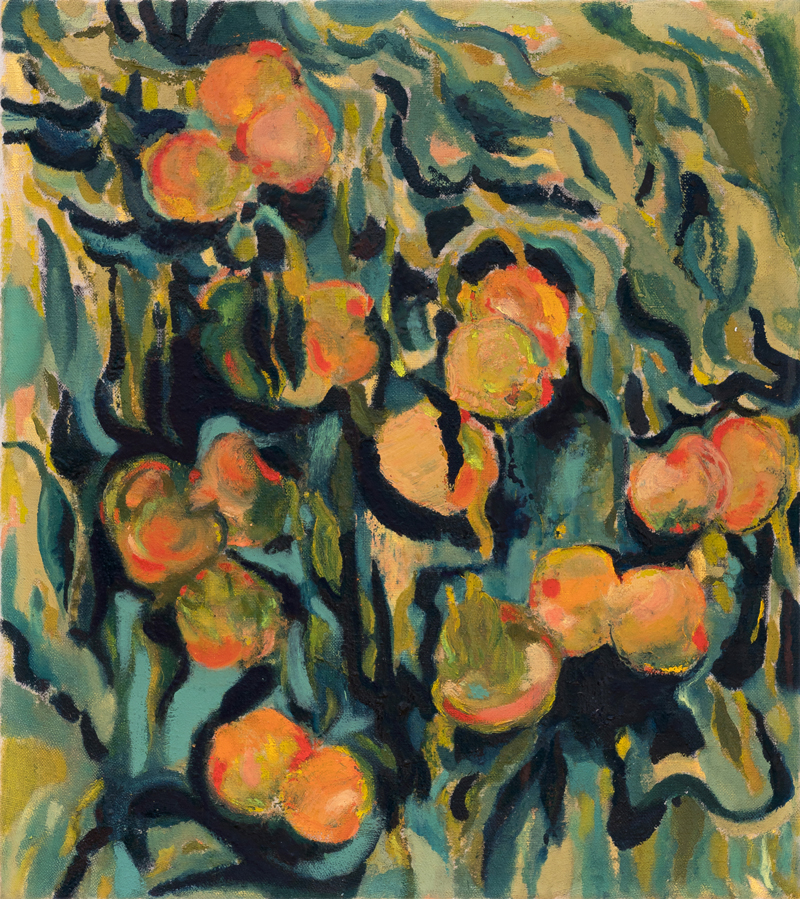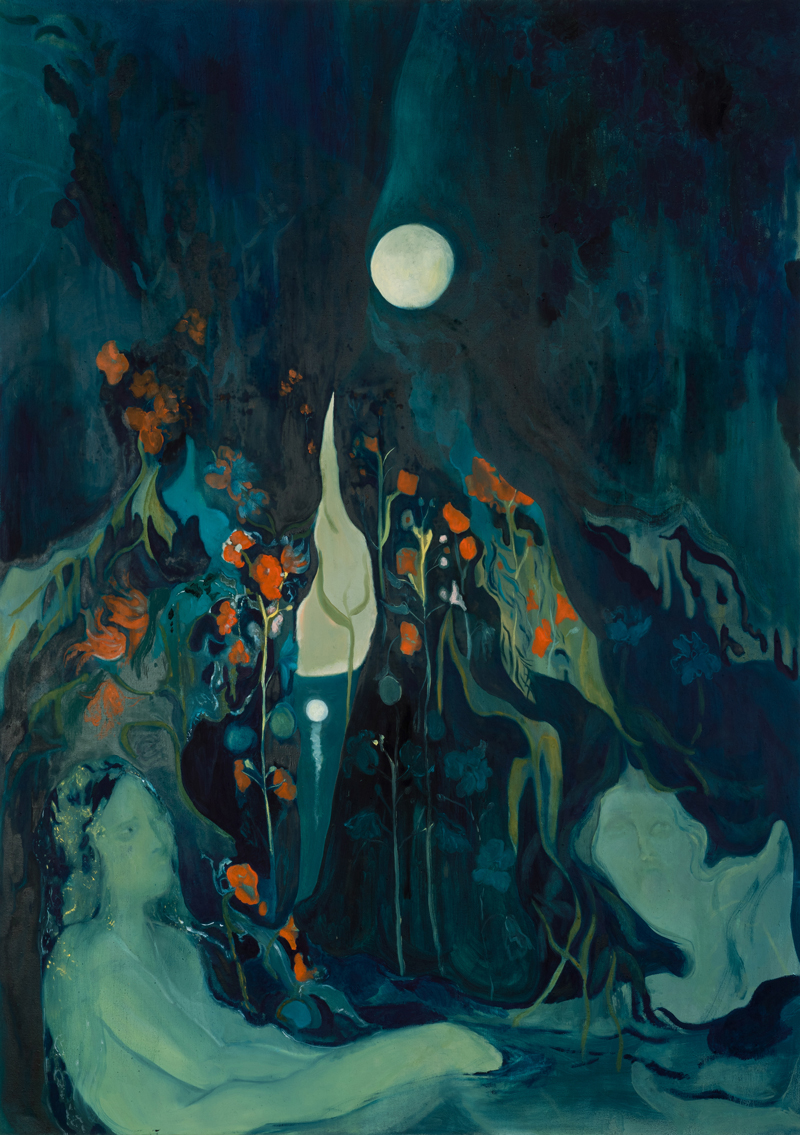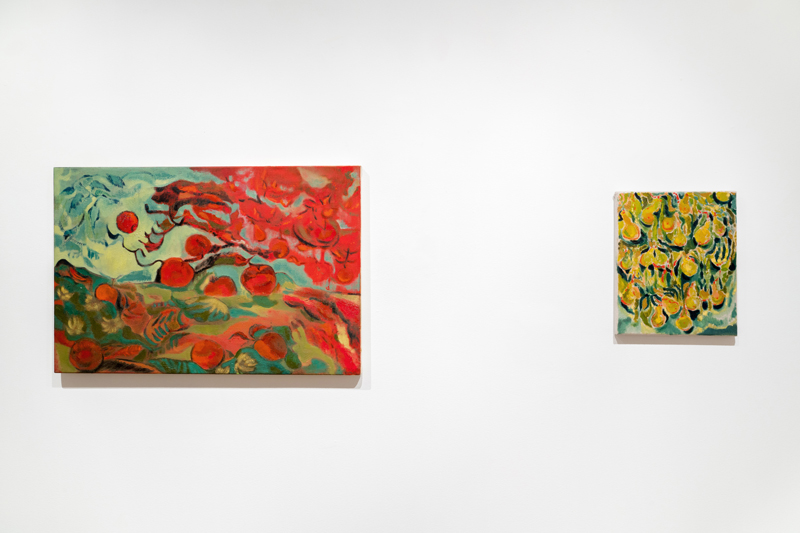 The Flowering Songs
Darby Milbrath
Artist: Darby Milbrath
Exhibition: March 1 to April 14, 2018
Installation views: Jean-Michael Seminaro
Darby Milbrath's expressionist paintings are informed by her memories of innocence and her experience. Darby's past life in the theatre as a dancer, the nostalgia for her imaginative childhood, the landscape of the West Coast Gulf Islands whereon she was raised, as well as her visions and mysticism that began as a young girl there, are recurring motifs embedded in Darby's paintings.
The significance of the theatre in Darby's art practice began in childhood and later into a profession as a contemporary dancer. Her commitment was primarily to the technique of the late pioneer, José Limón, which is based on the falling and recovering of a human body. It explores the adaptability of a body in space, indulging and resisting the polarities of high and low, swinging from one extreme to another like a pendulum. The tension and duality of these echoes in the complexities, miseries and beauties of human life as a trope by Melpomene and Thalia, the theatrical masks of tragedy and comedy. In this dance, bodies are instruments in an orchestra, working alone or in solidarity, suspending and releasing, giving and taking, descending and ascending. The cyclical nature of ebb and flow, death and rebirth are ongoing themes explored in Darby's paintings which express empathy, sensuality, sorcery, womanhood and ceremony. Her paintings are intimate and confessional self-portraits of her life as a young woman. A mystic, Darby believes her work is a collaborative process with the spirits and a parting of the veils between the realms.
In The Flowering Songs, fragments of her imaginative and haunted childhood, her home, her blue bedroom, the rich overgrown gardens and orchards laden with ripe fruit, the courtyard in which she played, her memories of the theatre, the draperies, the scent of frankincense backstage, phantoms and veils, all come together, half submerged, in a watery, Prussian blue lagoon of memories, dreams and visions.
Biography
Darby Milbrath was born in 1985 in Victoria, she currently lives and works in Toronto. She holds a diploma from the School of Contemporary Dancers in affiliation with The University of Winnipeg. Her work is somehow confessional, revealing cryptically the details of her childhood, dreams, memories, failed love affairs and private life. Her work as a professional dancer largely inform her visual art practice, lending her paintings a sense of movement and intrepidity while handling her figurative subjects who often tend to be a medley of self-portraits, sisters and dancers. Her recent exhibitions include The Morning Shines With The Lights Of Love at Clint Roenisch Gallery (Toronto), Domestic Tranquility at 0-0 LA (Los Angeles), The Garden at Projet Pangée (Montreal) and Blue Hyacinth at Erin Stump Projects (Toronto). Her work was also presented by Projet Pangée at Papier17 (Montreal) and Material Art Fair (Mexico) in 2017.
Press (exhibition)
Walt Street International Magazine: https://wsimag.com/art/36649-darby-milbrath
Canadian Art – Must-Sees: https://canadianart.ca/must-sees/march-1-to-7-2018/
Create Magazine: https://create-magazine.com/features/the-flowering-songs-by-darby-milbrath
Belgo Report : http://www.thebelgoreport.com/2018/03/darby-milbrath-the-flowering-songs/
Rats De Ville: https://ratsdeville.org/2018/02/23/darby-milbrath-projet-pangee/
Recent Press (artist)
Canadian Art Feature: Video In the Studio with Darby Milbrath: http://canadianart.ca/features/darby-milbrath/
I-D Magazine: https://i-d.vice.com/en_uk/article/a3v545/up-the-garden-path-with-artists-claire-and-darby-milbrath
The Editorial Magazine: http://the-editorialmagazine.com/studio-visit-darby-milbrath/
Oyster Magazine: http://o.oystermag.com/inside-darby-milbraiths-blue-hyacinth-exhibition
Normale Magazine: http://www.normalemagazine.com/2016/04/01/childs-play/
Them Magazine: http://www.them-mag.com/art/m-questionnaire-with-darby-milbrath-a2124