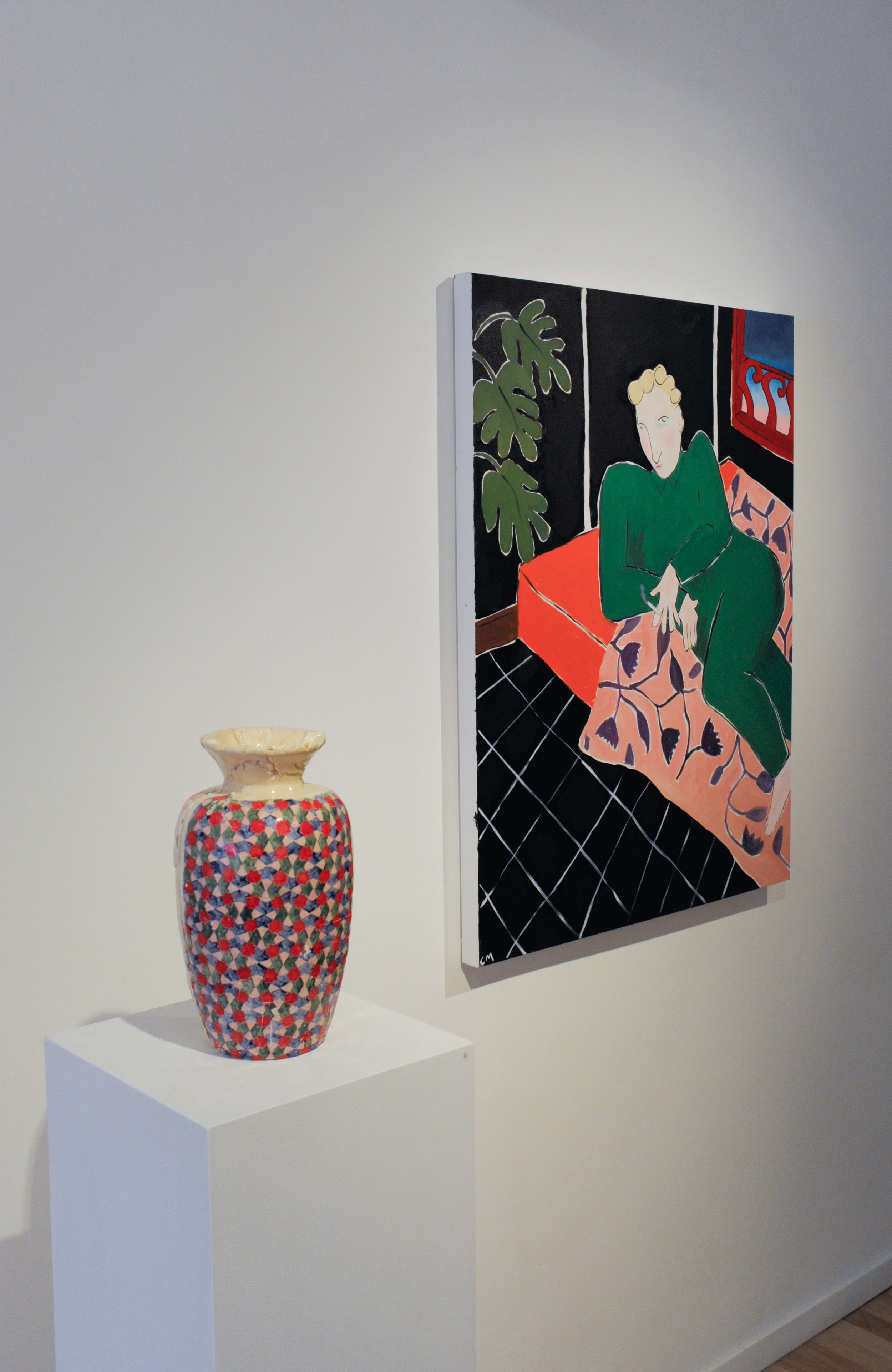 The Garden
Artists: Claire Milbrath, Darby Milbrath, Étienne Chartrand and Trevor Baird
Exhibition: June 11 to July 30 2016
Text: Darby Milbrath
PROJET PANGÉE is pleased to present The Garden, an exhibition featuring works by the artists Claire Milbrath, Darby Milbrath, Étienne Chartrand and Trevor Baird. Claire and Darby Milbrath were born and raised in a haunted mansion in Victoria, BC. The house had once been the overflow for the Empress Hotel and contains numerous rooms and secret hiding places. Summers were spent playing elaborate and imaginative games in the overgrown garden surrounding it. The sense of make-believe, romanticism and splendour that permeated their childhood largely influences the sisters' work today.
The protagonist in all of Claire's work, Poor Gray, was first imagined when she was a child, as she would draw him on scraps of paper and napkins around the house growing up. Poor Gray is a character trapped within the confines of what Claire is able or willing to paint. He's an anxious man, with nothing other to do than act out the banalities of his world: waiting, resting, reading, and talking on the phone. He's lethargic, wealthy, homosexual, and a smoker. The scenes in which he is painted are reminiscent of the great rooms of the Milbrath's childhood home and the gardens surrounding it. Both of the sisters' work is diaristic in this way. Darby believes that Poor Gray - slightly aloof, anxiously lounging in rooms painted in an awkward naivety - is a self-portrayal of Claire, the baby of the family.
Darby's work is also confessional in this regard, however, it reveals cryptically the details of her childhood, dreams, memories, failed love affairs and private life. Darby's work as a professional dancer largely informs her visual art practice, lending her paintings a sense of movement and intrepidity while handling her figurative subjects who often tend to be a medley of self-portraits, sisters and dancers. Darby is inspired by classical motifs in paintings - war and peace, heaven and hell - which she handles with a playful spirit and soft sincerity.
There are similarities in the themes with which the sisters work, such as nudes, portraits, plants, and vanitas. However, Darby primarily paints women whereas Claire paints men. Sexuality and darkness are found in both sisters' work where it comes through in a yielding and melodiously childlike way. As both sisters were raised without formal artistic training, they paint solely what they know or imagine, and often, crudely. Still today, they have maintained their sense of play and childishness, continuing to paint side by side, often travelling back to their childhood home where their best works are usually done. The work for this exhibition was inspired by the lush and hauntingly beautiful gardens of their childhood, warm summery nights and colours, languid youth in love, and sisterhood.
This exhibition also introduces the ceramic work of Étienne Chartrand and Trevor Baird.